FLOPS 2004 Home - Venue - Registration - Accommodation - Schedule - Contact - Photos
---
Call for Participation
April 7-9, 2004
---
We added some photos of the conference.
Venue
The symposium will be held at the New Public Hall, located in the historic city of Nara, Japan, which is about 50km east of Osaka.

The closest airport is Osaka-Kansai International. From there you can reach Nara either by train or by bus. Note that by train you have two options: either JR-West company (rapid service to Tennoji(Osaka), and then rapid Yamatoji to Nara), or Nankai/Kintetsu companies (Nankai Rapi:t to Nanba(Osaka), and then Kintetsu express to Nara). Most hotels are located close by the JR Nara station, which is about 1.5 km west of Kintetsu Nara. Since it makes you change train companies in Osaka the second option is more thrilling. In both cases, count 30-40 minutes from Kansai airport to Osaka, and 30-40 minutes from Osaka to Nara. However, the simplest way is probably to go by bus; the travel is about 80 minutes, and goes through both stations in Nara.

Coming from Tokyo, you should ride the Shinkansen to Kyoto (130 minutes) and then go to Nara either by JR or Kintetsu (40 minutes). Note that it is not a very good idea to come by train directly from Tokyo-Narita airport, as you need one extra hour to Tokyo, and the total train fare is rather expensive. Unfortunately there are very few domestic flights in Narita either.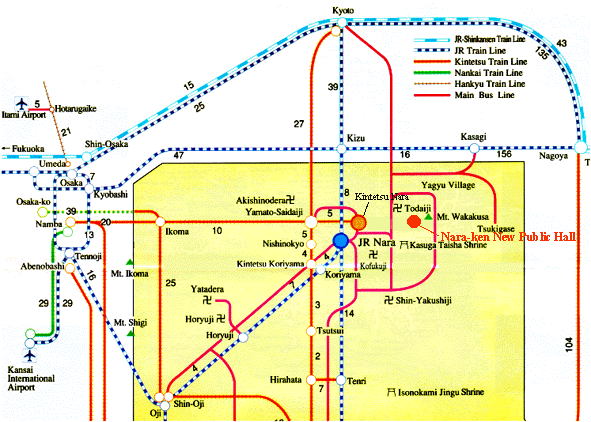 The New Public Hall is located inside Nara Park, a 20 minutes walk east of Kintetsu Nara station. You can also go there by bus number 2 and 6 (loop lines) from the stations (stand 1 at both JR and Kintetsu), stopping at Daibutsuden-Kasuga-Taisha-mae, just next to the Todaiji temple; buses run every 5 to 10 minutes, and cost 180 yens. By taxi, ask for "Shin-kokaido" or "Todaiji"; the price should be about 800 yens.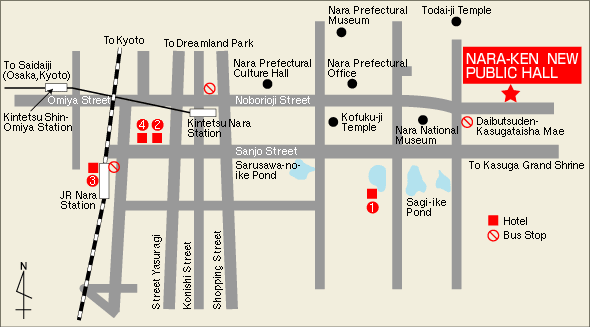 Registration
Registration fees are as follows. The early registration deadline was February 29th.
The late registration rate for students has been aligned to the early rate: students are welcome. (The form still stays JPY20000 for late registration, please ignore it.)
| | | |
| --- | --- | --- |
| Category | Early registration | Late registration |
| Regular | JPY30000 | JPY35000 |
| Student | JPY15000 | JPY15000 |
Current rates are about JPY108 for $1 and JPY133 for 1 EURO.

Registration and payment should be made through JTB, using this registration form.
We will also accept a small number of on-site registrations (only payment by JPY cash will be accepted).

The registration fee covers
Symposium proceedings
Banquet (regular only, otherwise JPY7000)
Accommodation
Accommodation around the symposium site will be arranged by JTB, together with the registration form.
Hotel prices range from JPY8295 to JPY15400 for a single room, and JPY16170 to JPY29700 for a twin room. Nara Hotel and Mitsui Garden Hotel provide internet connections to the room. Numbers in the above map correspond to the following hotels:
If you have special needs, for instance if you also want to book an hotel in Kyoto, you may directly contact JTB by e-mail before sending your reservation form at: Kyoto_ei3b@kns.jtb.co.jp.
Wed. Apr. 7
Thu. Apr. 8
Fri. Apr. 9
Sat. Apr. 10
AM (9:30-12:30)
Session
Session
ALPS
PM (13:30-18)
Session
Session
ALPS
Evening (18:30-)
Banquet
The ALPS workshop will be held nearby Kyoto Station (40 minutes from Nara) on Apr.10.
---
If you have any questions, please feel free to contact local arrangement garrigue@kurims.kyoto-u.ac.jp. Last update: April 14, 2004.